Why I ship Laxus x Cana instead of Baccana, Miraxus or Canabiki
Laxana: weird pair right? At first, -usually- does not seem to attract/make sense to most Fairy Tail Fans; since they have not interacted once in the anime. But, taking a second look there are a few facts people usually overlook.
The have interacted in the manga; in the Phantom Lord Arc; Laxus asked for Cana to strip for him 'cause as he stated; he's weak for sexy women; implying that he finds her attractive.
Their personalities: they just click, as simple and basic as that; both are strong minded individuals driven by their believes (His power; hers the desire to tell her father the truth) Their personalities compliment each other (And the smex will be amazing)
and if we add Giltats to the pic we'll get a hell of a  father in law
Baccana: I feel like Bacchus as a fling, or a possible drinking buddy, nothing more, just like Makao is. People seem to ship Baccana just 'cause they both like to drink, that is not enough fundament for me…
…. and there is fact that Bacchus is kinda creepy -he wanted the strauss sisters for him for a night and he took Cana's bra as a prize- He'll probably get murdered by Giltarts for that alone- I felt that scene kinda disturbing.
Besides, Cana would probably never leave Fairy Tail; that's one of the main reasons iI don't see this couple happening or lasting.
Miraxus: S Class and Sclass; must be love? What can I say, I see NO CHEMISTRY AT ALL between those two; that's kinda of a downer for me…. besides Mira deserves someone more… suitable for her… Fried is out of the question 'cause he's gay for Laxus….
Canabiki: He's just a womanizer and Cana, well, both parts won't take each other seriously.
Don't get me wrong, I respect other people's choice.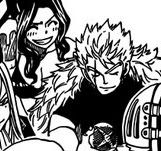 If this statement sounds kinda weird might be because English is not my native language; so my apologies.
Music
:thumb147823083::thumb75469518::thumb142912825:
Anime | Manga
Books | Movies
Tv Shows